Hurray I made it to 12 weeks! Morning sickness is really easing up and life is getting a whole lot easier now. My energy is getting a little bit better, and I don't feel like a zombie anymore, yay. I don't feel like I really have much to write this week... So let's reflect on how my bloods been doing. Overall - MUCH BETTER. I had a few instances on my last post where I was having trouble getting down my numbers post meal, and I don't know exactly change worked, but I find I am rarely over 10 one hour post meal, and always down to around 7 an hour after that. Huge improvement from before. I mean of course, it's not perfect - Friday after dinner was frustrating, but nothing like the 4-5 hours it took the weekend before. I'm still having my morning lows, but not
every
single day like before, so I'll take that. Still wishing we could get a great CGMS in Canada, but I know tons of women have been pregnant with diabetes before the days of CGMS, I can do it too. Who knows, maybe it'll just happen sooner than expected, that would be amazing.
I'm playing it pretty safe with site changes; I did one yesterday that felt a little more painful than normal, and noticed it had bled just a little bit which I could see through the plastic. I'm sure it would have been fine and likely just hit a capillary, but I pulled it just in case. Last thing I need is a kinked cannula. Last time that happened, I ended up with a blood sugar in the 20's - no thanks!
Lets see, what else is new and exciting? I'm sooo excited for our ultrasound on Wednesday and actually had my reminder call for it this morning. Can't wait for 'low risk' and 'membrane'! Thinking positive positive thoughts right now! Also, someone was nice enough to lend me her fetal doppler and after a little bit of frustration, I think I've finally found both heart beats!! At first I kept getting something at 75 bpm (which isn't baby) and every little bit, I could catch something at around 160 bpm for 5 seconds or so. I tried again after dinner and for some reason was trying to find a heartbeat about an inch below my belly button which is wayyyy too high. I eventually found a HB at 156 bpm... and when I moved about an inch to the right, I lose it.... and then I find another HB at about 169 about another inch over. That sounds like two healthy little heart beats to me!! Sooo amazing to hear. <3
Jamie and I are going to start clearing out the baby room in the next while (when is a good time to do that???) and so Jamie's started the process by installing new shelving in the basement closet so we can start transferring stuff downstairs. Right now in their room, we have: A TV, TV stand, luggage, a storage ottoman, a fan, our air conditioner, pillows, a smallish storage unit and our wrapping paper supply. So there's really not too much that we need to move, luckily. I think we're going to use the bedroom at the back of the house - I would still rather use the middle bedroom, but I think the back bedroom is probably a better size for two babies, so Jamie will likely win this one! I'm pretty excited to start shopping for cribs and all of that fun stuff too! Anyways, I should get to bed soon, can't believe it's Monday tomorrow already! Weekend, you don't last long enough :(
How far along?
12 weeks, 4 days
Total weight gain:
I think I've actually put on about a pound this week!
Maternity Clothes?
None this weekend - I want to get some maternity jeans, they are probably super comfy.
Stretch Marks?
None, yet... Hoping it will stay that way.
Sleep:
Still sleeping pretty good, aside from a snoring hubby the other night! I wake up with dry mouth though, which sucks.
Miss anything?
We went to Moxie's on Friday and yes, I would have lovedddddd a raspberry kiwi margarita or a GT. Oh well.
Movement:
Still nothing, too early.
Food cravings:
Jamie was amazing and got me a cupcake twice this past week, haha. I'd say that's been my craving!
Anything making you queasy or sick?
This week was much better - although I threw up this morning after taking my prenatal on an empty stomach, ouch.
Gender
: My thoughts change every single day, today my guess is girls. But I really have nooooo clue.
Labour signs:
Nothing, yet. That would be a problem and a half.
Symptoms:
Still pretty sleepy mostly. And headaches have started kicking in.
Bellybutton in or out?
In, totally.... Although my bellybutton ring feels like it's getting pushed out a TINY bit, if that makes sense.
Wedding rings on or off?
Still on, no swellage yet!
Happy or moody most of the time?
Happy, I haven't been very moody at all, at least I don't think so.
Looking forward to:
Ultrasound on Wednesday!!!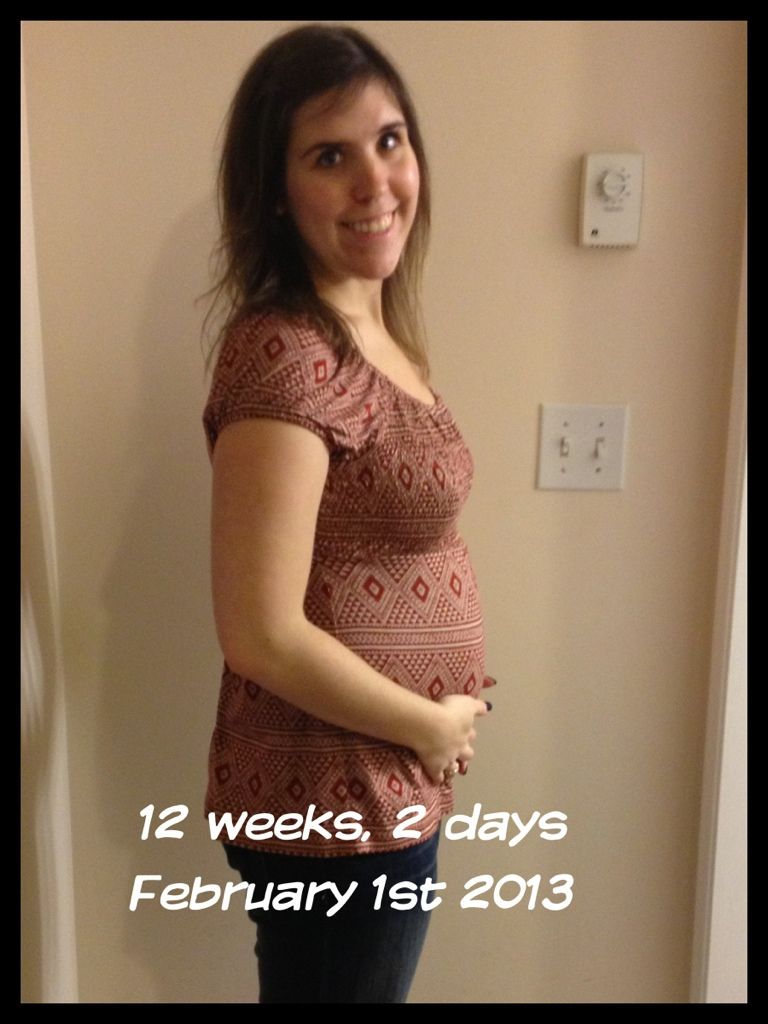 Feeling huge at 12 weeks!!