What can I even say? 6 months have passed since the night our little baby boys came into the world... I can't even begin to imagine life without them! They are reaching new milestones daily, and just becoming such radiant, happy, amazing, adorable little men! They are both almost always smiling (except for when I try to get a picture of it of course!!) and I just love the fact that colic has passed... It's kind of like the NICU though, such a distant memory, it almost seems like it didn't happen. But of course I have enough videos to remind me
, should I ever get baby fever again. ;)
Okay, so what's happened in the last month? Well, to start... Not a whole lot of sleeping!! We are right in the middle of the dreaded 4 month sleep regression. The boys are actually only 4 months old adjusted, so we kind of jump between the t
wo ages to see what they 'should' be doing at which time. I've heard about this 4 month sleep regression, and I officially think we're in deep. Granted, we've never have much to 'regress' from, but we're not getting a whole lot of sleep. Apparently it can be because they have too much on their little minds. They're learning new things every day (more on that later) and it keeps them awake. Throw in the early stages of little toothies coming in, and I can understand why they're keeping us up. Do I wish they'd sleep longer? Of course! But in the grand scheme of things, they are only a baby for such a short period time, when they're old I will not regret the middle of the night nursing sessions and extra cuddles one bit. We've started moving their bedtime a little earlier, and on a good night, we'll have them down by 7:30-7:45. They're up usually a couple of times before I go to bed at midnight, and after that it's about every 1-2 hours. We've looked into sleep training, but just don't have the heart for cry it out, and although we've tried some of the other techniques, they're not working for us yet. Maybe we'll look into it a bit more once they get over this little spurt.
The boys have been growing and learning like CRAZY! Just since they turned 5 months, we've added a jolly jumper and a jumperoo. Adam likes the jumperoo, with all of the noises and lights. Meanwhile, Scott will go absolutely nuts in the jolly jumper. It is about the cutest thing in the world to watch the two of them jumping like little maniacs. A few days ago Adam mastered rolling tummy to back, and Scott followed the next night! Now it's pretty much impossible to keep them on their backs, which makes diaper changes fun. I always blow raspberries at them, and since yesterday that is Adam's new (messy) party trick. He will just stare at you and try to blow raspberries, which pretty much just works out to a lot of drool. But it's adorable. Scott is becoming a little giggle monster. Today we were walking around in the stroller (long overdue for a nap) and Adam was a little cranky, but Scott was just grinning and giggling at me. Best sound ever. They both have a lot of hair coming in, and Adam's sticks straight up, where Scott's hair lies flat. Which is the exact opposite of how their hair was in the NICU. They'll both be moptops before we know it. They want to sit up and see the world, so we're not using the stroller with the car seats as much as we used to. They seem much happier this way. Still using the infant seats, but they're getting heavy to carry around! They're still sitting up on their own a little bit here and there, but nothing concrete yet. Absolutely love to be standing, with help of course. They love toys now, Scott's favourite is this little chicken I got, and Adam is still most fond of the good ol' O-ball. They're in size 2 diapers (we're using Pampers) and currently just busting out of the 3 month stuff into 6 month! They have such long arms; All of their 3 month long sleeve shirts are now 3/4 length shirts!
Today, I made the ultimate switch to the Mom lifestyle and traded in my CRV for a new Dodge Grand Caravan. Absolutely love it! The van is pretty nice (okay really nice), but the best part was just the boys at the dealership. We spent quite a bit of time there over the past few days negotiating a deal and checking out different models, and there were a lot of photo opportunities of course! I love that the babies tolerate all of the silly pictures I take of them. I thought I took a lot of pictures before, now with them being so cute all of the time it's getting out of control. I had to upgrade to a 64GB iphone!
My new ride!
Adam (green) & Scott (white) wanted a viper instead of a van!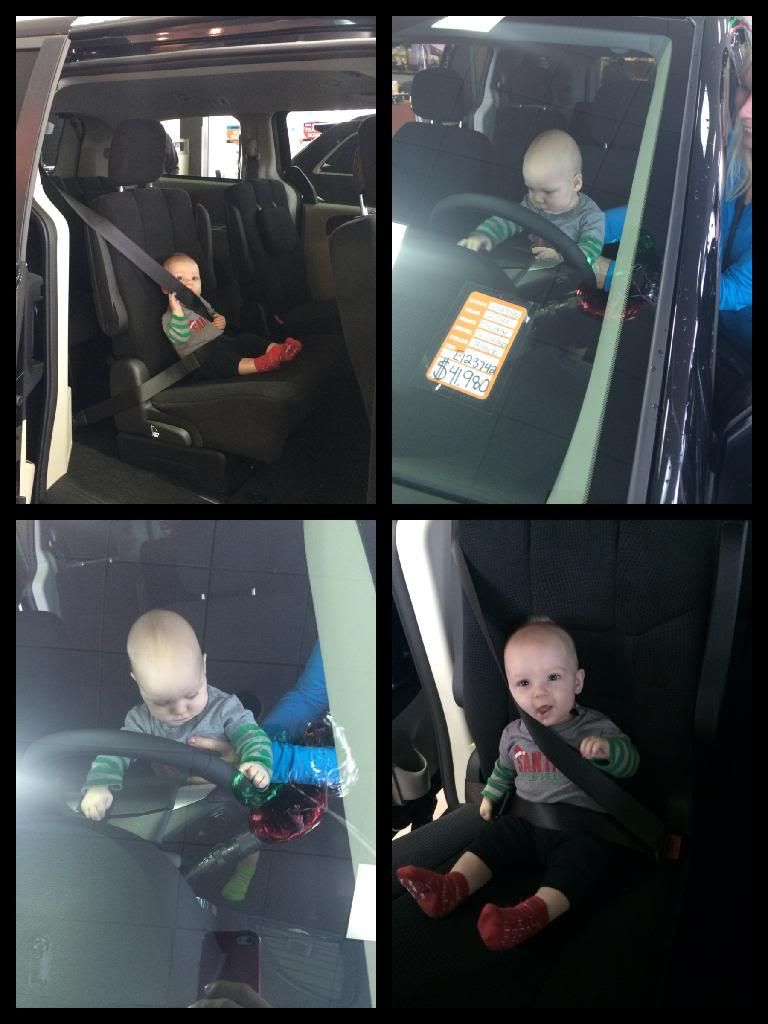 Adam was the passenger while Scott worked on his driving skills
Overall, they are the light of my life, and I am overwhelmed with how much I love them. It's sappy, but every single day I fall more and more in love with them. Every little thing they do amazes me, and I am thoroughly obsessed with my babies. The long nights, the tears (which still happen of course), the lack of 'free time' is all more than worth it when we witness the 'splash-olympics' during bathtime where they both like to see who can soak us -and the entire bathroom- more. I'm so excited for their first Christmas, it's going to be great - Let's just hope they NAP a little bit during all of it. Ahhh, finishing this I know I'm missing so much. Like that we went swimming as a family at the Pacific Inn and that we got new stroller cozies (hey, they're nice) for cold walks, and that I lost one of the ergo carriers while walking out on some local trails (oops)... I just feel like time is flying by so fast, and I want to capture/ remember everything. Every single day they're getting bigger and older and before I know it they will be off to college. Well, maybe not that soon, they need to sleep through the night before that happens. One step at a time.
Adam & Scott
Adam & Scott, enjoying a relaxing massage while Mommy makes sure we get a good deal on the van!
Adam & Scott - can't keep their hands out of their mouths!
Adam & Scott
Sweet boys, Scott & Adam
Family photo. Adam with me, Scott with Jamie
Adam
Sweetheart!
Happiest little dude ever
Cutie in his carseat
My little scholar
Learning to ride a bike, already!
Selfie with Mom!
Scott
Sleeping while out shopping
Snoozing with Nana!
Cuddles with Dad
Smiley adorable guy
Emperor Scott says "Feed me!"
Little model baby