To start, I am about the most indecisive person in the world. And I ramble, so beware - this will be long! When I found out I was expecting twins, one of the first things I thought of was strollers! I had all these visions of shopping for travel systems (before I knew there were two) and all of the sudden it was a little more complicated! When you're pregnant with one baby, you can basically buy a carseat and stroller together in a set for about $250-300ish. These ones usually have pretty cute patterns and whatnot too. Unfortunately for twins, they don't sell any travel systems, so you need to look at things a little differently. There is definitely a little bit more of an investment too. For a starting point you need to buy two car seats and then a double stroller on top of that to hold those car seats/ babies! Not the cheapest thing in the world of course!
I started off by buying the Kolcraft Contours Options LT. This is a stroller I researched quite a bit, and thought it seemed great. It is a front to back tandem stroller, and the seats can be facing forward, backwards, together, and apart. You can also fit both car seats on with adapters. It only came in red in Canada, but you could get it in yellow and gray in the States. It was on sale at Babies R us, so I picked it up. I brought it home, built it and immediately stuck it upstairs along with all of the other baby stuff I had been buying. I wasn't super sold on the car seat adapter (thought the two seats would be too close), and I wanted it to have a parent tray. I need a spot to stash my phone and keys!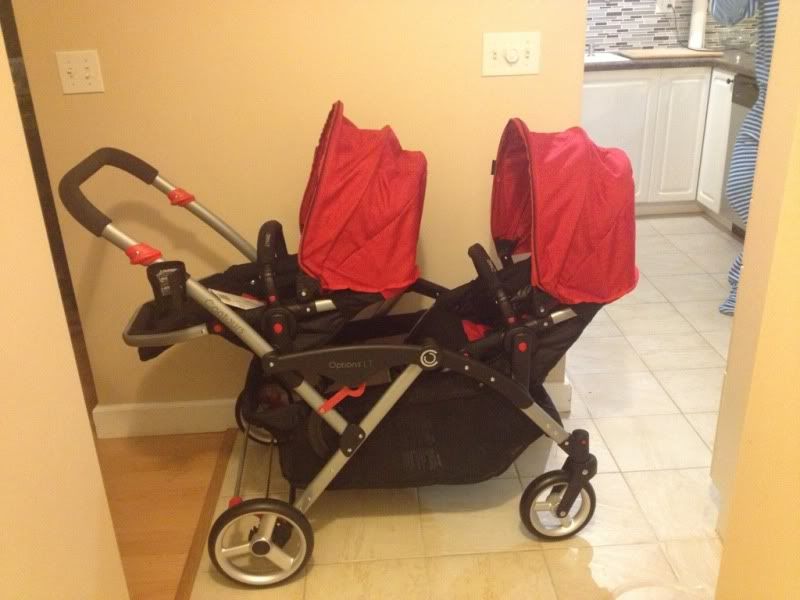 Contours stroller
I am never happy with my first decision so I eventually saw a Graco Duoglider stroller on Sears.ca and saw that I could get matching car seats with it! I love the idea of a travel system, so of course I had to get that too and make up my mind from there! I got the car seats from a store where I couldn't do returns, only store credit, so I knew I'd be stuck with them. Luckily I love them, and haven't had any buyers remorse over them whatsoever!! I ordered the Graco stroller from Walmart.com instead (half price of what sears charged!) and picked it up at a pretty significant savings over the Contours stroller. Brought it home, built it and plopped it down next to the car seats and Contours stroller, I could make up my mind when I was ready.First thing I noticed was that it was HARD to get the car seats in!!! Jamie was already shaking his head at me. I was about 15 weeks pregnant at this point and already had two strollers, neither of which I loved.
Graco stroller without car seats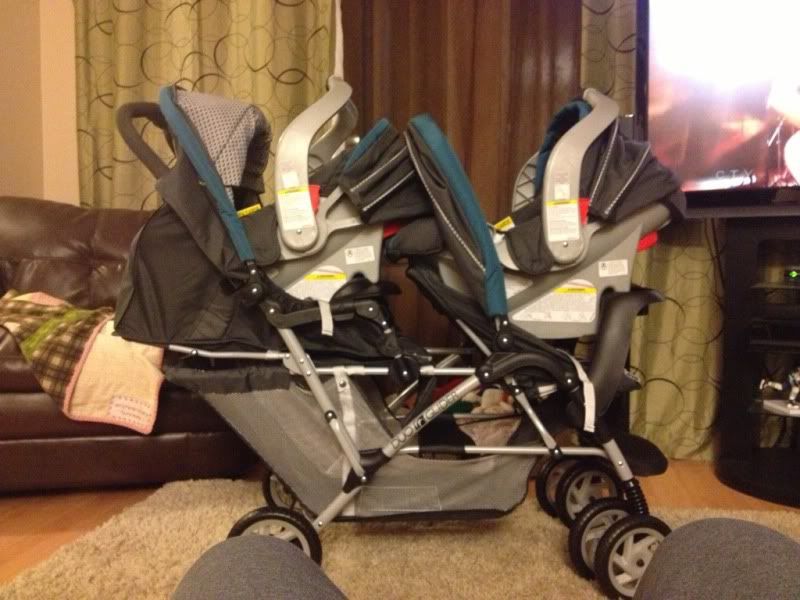 Graco stroller, with both seats crammed in
So, now I had to make a decision. We brought both strollers over to my parents house for Easter Dinner (At least I think it was Easter dinner) and after driving them both around their main floor (complete with 20lb weights in each seat) we eventually decided to go with the Graco. I still had trouble getting the car seats in, but was convinced it would loosen up eventually and become easier. Plus, it was a little skinnier, had a parent tray, the back seat fully reclined into a bassinet of sorts (which I somehow thought would contain both babies for a long period of time), it rolled while folded so I wouldn't have to actually carry it, and most importantly it matched! It was also about half the price of the Contours, so I was pretty happy with that. I returned the Contour stroller the next day and thought I was all done.
Comparing both strollers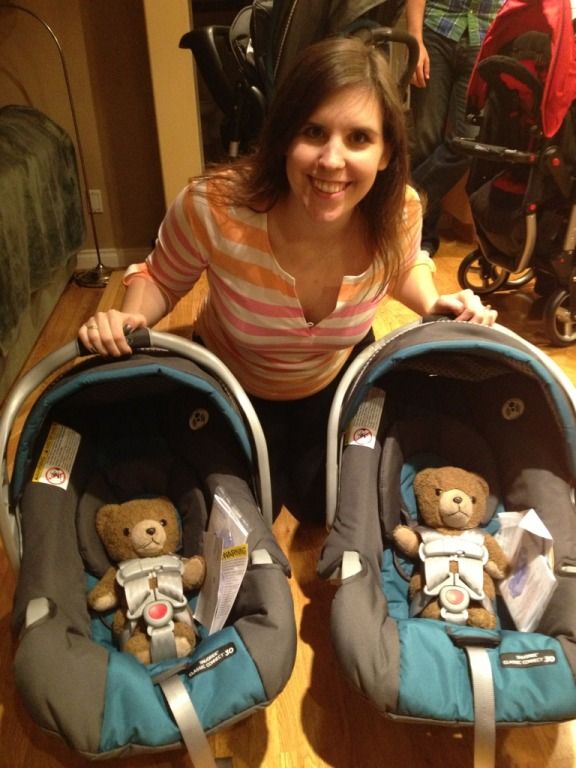 The twin teddies testing out the car seats.
You can see the stroller comparison in the background!
Time went on and other stuff was purchased like the cribs, changing table, dresser etc. I eventually came back to the whole stroller thing and decided I hated the Graco. It wasn't a good fit at all. The only option was an inline tandem, so one baby would always be stuck in the back seat with nothing to see. The front seat was very short in the legs, and the back seat only reclined either all the way down, or sat all the way up. There wasn't a 5 pt harness (only 3 pt), it was too tall to fit comfortably in the back of my hatchback, the car seats still didn't fit in well (they overlapped, and they weren't getting easier to put in!!) and it just felt cheap. I realized I had made a very rash decision with keeping it, and it was back to square one. I bought a double snap n go from another local twin Mom and it fit the car seats great! It had a parent tray, was light, easy to fold. Pretty much perfect for when using just the car seats. I also bought a Britax B-Agile double, which is a side by side stroller. I figured that the boys would like to be able to sit next to each other, and it was a really great quality stroller, and fit through all standard doorways. I took the Graco stroller back to Walmart and my mind was made up, finally. Plus, I bought the Britax online, so neither of them were easily returnable - there was no turning back! I put the strollers I was keeping in the basement and was happy with my decision!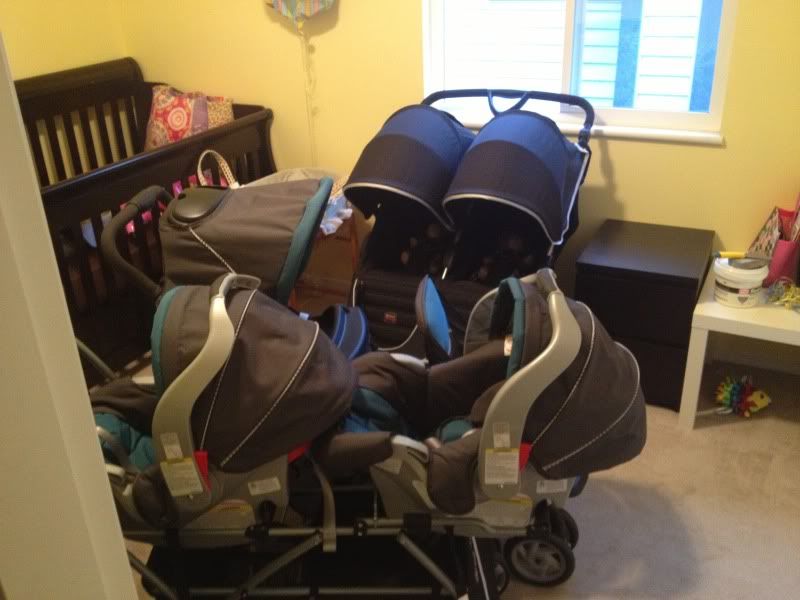 The babies' room was pretty much stroller city at this point
My beautiful baby boys made their way into this world on June 23rd, and had a 25 day stay in the NICU. When they came home, we used the double snap n go for neighbourhood walks and it worked perfect! Even though the Britax reclined to an almost flat position, I didn't want to use it because it didn't quite feel tight enough for my tiny guys. One day Jamie went to work with the snap n go in his truck, so in order to get my Starbucks, my Mom and I decided to just line the Britax stroller with towels and cram the babies in. It worked great! I absolutely LOVE my Britax stroller. It turns on a dime, and has tons of storage. I was able to buy a attachment to use as a parent tray, which I barely even need because the backs of the seats are huge zippered compartments. It is a nice sleek black colour, so it never clashes with the boys' clothing! Shortly after we started using it regularly, I bought these little body pad things, which kept the boys cozy and secure, minus the bath towels!
First time out with the Snap n Go
How we got the boys to fit in the Britax Stroller
First time out with Britax!
Comfy little bugs!
So, that's how we did things! It worked really well. I used the snap n go for most mall trips, and anytime I wanted to not wake up the boys by taking them out of their car seats pretty much. I took the Britax any time we would be a little longer because it's comfier for the boys, easier to get them in and out, and WAY easier to push. About 2 weeks ago, I decided that I'm not loving the snap n go anymore. It was perfect for when the boys were teensy, but now that they were getting a little heavier it wasn't quite as easy to push. Also, they are tall and the seats overlap just enough to make me start to worry about crushing little toesies between the seats. Luckily I barely paid anything for it, and should be able to resell it to another new twin mom no problem.
Size comparison: The day boys came home & now.


I had been thinking about getting a front to back tandem stroller again, as I stopped using the snap n go as much. I need one for malls - A couple weeks ago I was stuck on the sidelines at Macys because my Britax wouldn't fit into the tight area where they keep all of the baby clothes. I wasn't thinking too much about getting one soon, but the Baby Jogger City Select went on sale for a free second seat, so that got my butt in gear. The City Select is 'the twin stroller'. Everyone who has twins says it is THE stroller you need, etc. It's similar to the Contours stroller I had in that the seats can position in, out, forward, back, one seat, two seat, car seats... you get the idea. It is a single stroller frame, where you can attach a separate seat. This is not a cheap stroller, so the free seat deal grabbed my attention. I checked it out in store and although everyone seems to love it, I wasn't sold. The seats are pretty close together. Our boys are already pretty long legged so I just imagine them booting each other in no time. When facing each other one baby would pretty much be in the storage area, and in a prime spot to be kicked in the shins! You cant see the baby at the front of the stroller when using two car seats. You need to remove one seat to fold it. Lastly, it is EXPENSIVE! The car seat attachments are about $70 (each) and every other add on such as snack trays, belly bars etc are just more and more expensive. It did push like a dream, and I loved that the baby in the back would be able to see so well with the stadium style seating, but I wasn't quite ready to drop that much money on what would essentially be an extra stroller, as I still love my Britax!
City Select in store
Not much leg room!
With car seats on (they shouldn't be tilted, they were put on wrong in the pic!)
Once I ruled out the City Select, I decided I still do want a front to back tandem... And wound up right where I started with the Contours! First of all, they now have it in black, which I like more than the red. I tried it out in store with both car seats and they fit really well. It was much more secure than I remembered, and I could still see both babies. It has a cupholder and I already had a little pouch thingy that attaches to the handle to stash my phone and keys in. There is plenty of room between the seats for the babies to fit in, I love that it has a belly bar - I really like the idea of being able to attach toys to it without worrying about the babies throwing their toys out of the stroller. I can also get a generic snack tray for it in the future if I want. The basket is huge, it pushes really well, it's actually 3 inches shorter than the City Select with both seats on, it comes with 1 car seat adapter (second one is only $20), and so overall it is a much better choice for me! And it's less than half the price of the City Select! Also, I can fold it with both seats on, or both car seat adapters. It's not small once folded by any means, but it is a double stroller, so I guess I need to live with a little bit of bulk! It fits in my car no problem. This is a stroller I'm really only going to use for going to the mall or indoorsy things. I'll still use my Britax for walks around the block, going to places like the PNE etc. Best thing is; I decided I would buy it on the Wednesday... Checked the flyer for Toys R US and it was on sale starting Friday for $50 off! Can't go wrong there.
Scott testing out the seat on a red Contours!
We'll still use it with the car seats for a little while
Boys snoozing through a stroll at the mall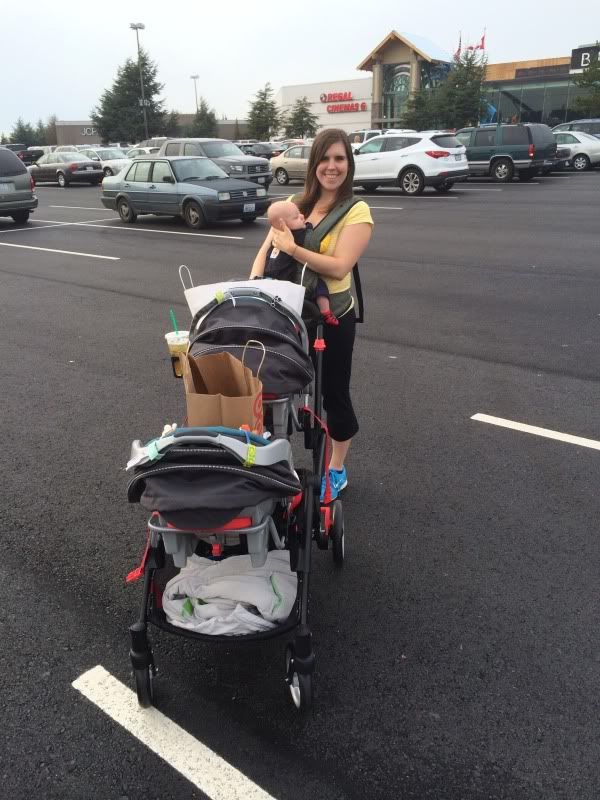 It holds a lot of crap! Especially when it's not carrying babies!
Phew, that was long... Even longer than I expected!!! Overall I'm happy with my choices. I feel I got a good deal on both strollers, and now I have something for the days where the boys want to sit next to each other, or face each other, or forward, or back.... You catch my drift. As someone who would always buy the backpack with the most pockets when I was in school, I like having options! Now to get out there and use the strollers. Funny, we have two great strollers, but still end up baby wearing for many walks and mall trips, haha.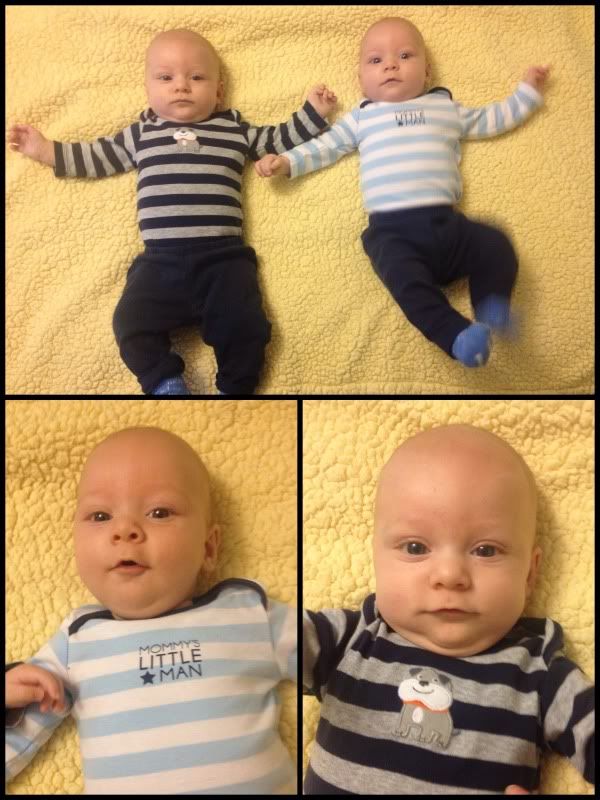 Adam & Scott say 'Our Mom is crazy... But we love her anyways!'